As usual, I couldn't find something to fold for this month's challenge on the english forum,
Color Change
, mainly because it doesn't ask for much... Its harder to come up with something that has only two colors and is worth folding rather than knowing what you have to make and deciding where to put the color changes. I started off with a kleenex box, a nice simple design. However, it looked awfully like a toaster, so I added another piece of toast and a "button" (I don't know what else to call it... The thing that you push down) on the front. It is a very basic color change, a lot like my last design. All it is is the edges being folded in close to the center. Here is the CP for this model: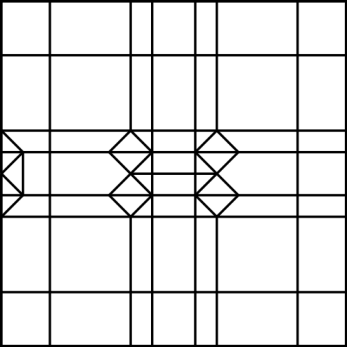 As you can see, its not too hard. Just two points facing up to make the toast. After folding in the edges, you have to make the model 3D by pleating the sides into a rectangle shape, and then lock the bottom by folding some of it inside the toaster. The button is made from the small section on the left of the CP, with just some simple 22.5° angle folds to make a color change. Good luck!