I started designing models out of box pleating right after I folded my first two boxpleating models,
Tran Trung Hieu's Luna Moth
and
Eric Joisel's Dwarf
. So far, I've only been able to design two things (and ones still incomplete).
My first ever design from box pleating was a simple pig. The design challenge on the english origami forum for
"Best of Show Pig Contest 2007"
had started, so I designed a simple little pig from a 16:16 grid...: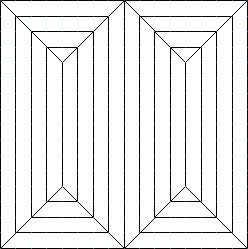 ...and folded it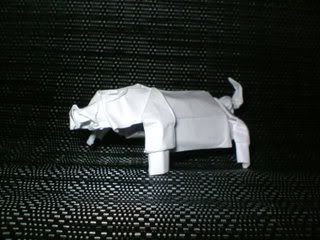 Then, because of my friend from the BZFlag forum with the
username WarPig
, I decided to design my own little War Pig from his avatar. Heres what I ended up with, out of a 24:24 grid, although it's not completely finished:
You kind of have to cut along the red lines, so purists beware!
That CP makes this:
As I said, I'm still working on it, and I'm pretty sure that I'll have a model with no cuts very soon.