This months challenge is
to fold a face or mask
. This is quite a challenge for me, seeing as "you can't use boxpleating for masks".
However, I proved myself wrong today. You really can use boxpleating, and the result surprised me. I managed to get hair (you can change the length by making it a rectangle wider and folding the CP in the middle), eyes, eyebrows, a nose and a mouth that you can change the expression of. In all, the mask is quite "poseable". The expression can be sad, happy, angry, surprised, etc. as long as the expression can be made using only those body parts listed above.
Anyways, I decided to keep the model simple and go with and 8:8 grid. As mentioned before, you can make it wider to make the hair longer.
The CP folds quite small as compared to the original paper size, I'd say about an 8th. Try out some new expressions!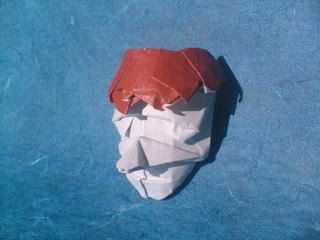 (a self portrait)