Finally, I decided to participate in yet another challenge I found. The
OUSA annual design challenge
happens to be a plant this year, something that I don't fold much of, but I tried it anyway. I made up the CP in class, and then edited it while I was folding it. Heres what I ended up with, from a 32:32 grid:
It's a bit of a weird CP, and is very asymmetrical. However, it ended up quite nice with copy paper, so I wonder how it will look in better paper?
Here is a picture of what the model should look like: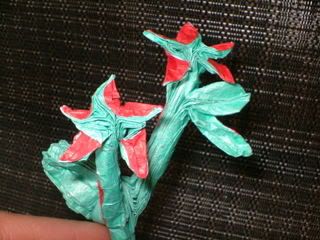 I will probably be making more models, or at least trying them out before the challenge is due. However, I know that I can't compete with
Brian Chan's log
.