I'm pretty sure that I have heard of a Cyclommatus Elaphus before. It's a close relative to the Cyclommatus Metallifer, which everyone knows.
Anyway, I folded what I thought was a Cyclommatus Imperator, and then looked on
Insect-Sale.com
to see if I needed to fix anything up. I looked, and found that the Cyclommatus Elaphus looked more like what I had folded, so that must be what it was. Here is the CP (16:16 grid):
With all the deatils, it makes this nice little model: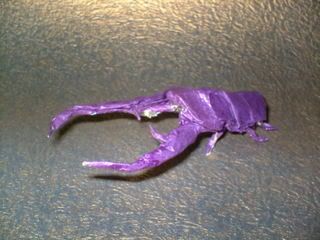 By the way, this model is for
the english forum's insect challenge
.